Oxford Packaging Solutions (OPS) is an independent around the clock-based manufacturer in Chalgrove, Oxfordshire specialising in injection blow moulding in PET, RPET, PP and HDPE materials. We believe that plastics represent an environmentally positive future if we support and develop a sustainable philosophy. We are a company that is committed to continuous training and development of staff, who provides training opportunities at all levels.
The Engineering Apprentice position will allow you to work across all departments. With the support of the production, engineering, and quality teams you will be able to make the most of your opportunities to achieve the goals that you already have – and those that you have yet to discover, enabling you to grow and develop in your chosen career path within the business.
This position will receive internal training at OPS that will complement the apprenticeship and give excellent training across the Engineering, Production and Quality assurance departments. Providing general understanding of engineering theory, developing technical skills, providing the solid foundation for apprentices to advance to the L4 completion.
The foundation of the engineering apprentice could lead to various positions within the business including development of equipment, development of new products, machine improvements, supervisory/ management positions.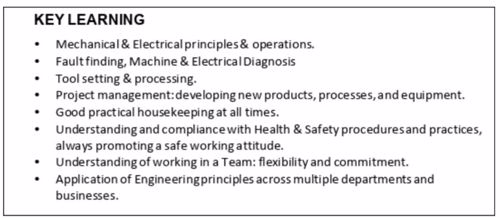 We are looking for an enthusiastic, self- motivated, hardworking apprentice who would like to start their career in production and engineering.
You will demonstrate an interest in engineering and practical skills through extracurricular activities, which can vary from making and building things to design and technology.
What we need from you:
· Adhere to safe systems of working practices and be able to follow direction and process in a respectful and compliant manner.
· Drive, enthusiasm, and commitment to learning new skills, seeking opportunities for personal development, and passing on knowledge to others.
· The ability to communicate effectively and engage positively and proactively with colleagues across the business.
· 5 GCSEs grades 4-9 including English and Maths.
· Flexibility around working hours, some shift work possibly in years 2-3.
The position is 40 hours per week with 21 days holiday plus 8 bank holidays per annum. Work schedules incorporate some shift work with a main focus on training and development.
During the first and second year, holidays must be taken outside of MTC/OAS term-time or scheduled in college holidays.
Year 1 – Full time at OAS
Year 2 –Full time at OPS with block release training at OAS
Year 3 and subsequent years - Full time at OPS with on-site support from OAS
Benefits & Package:
As well as competitive rates of pay with countryside surroundings and working alongside a friendly team, our other benefits include: -
· Starting Apprentice salary package of £20030.401 per annum, rising throughout the course
· An assigned Mentor to support you through your apprenticeship
· Plenty of free onsite parking
· Employee Assistance Programme
· Additional Employer Pension Contributions
· Company contributed Social Club
Salary Note: The initial salary is made up of £5.28 per hour pay and an additional loan agreement of £4.35 per hour. The Loan is written off during the second and third year of working at OPS during first to the third year of the course.